A review of assistive smart-home technology for people with physical and mobility disabilities
Research article

Open access | Available online on: 26 October, 2021 | Last update: 28 February, 2022
1. Introduction
Home automation, through computers, electronics, and telecommunications, is at the service of people with disability in terms of security, comfort, and social bonding. It is based on the ability to interact remotely with the house's equipment, which makes it "Smart". Thus, the fact of being able to activate equipment without moving by utilizing voice or a remote control allows reducing movements and therefore retain a certain autonomy.
Several devices can suit this purpose, allowing disabled persons to, for example, illuminate a room or switch on the heating. These devices can be equipped with a motion or presence sensors, as well as technology that allows for time delay or scenario definition. For instance, turn on the living room at 6 p.m. and then the bedroom at 8 p.m. Adapted remote control allows adapting the equipment to the disability with ergonomic and adapted touch switches or even voice control. Home automation allows the control of existing equipment of the house such as managing the light without moving, controlling the opening and closing of shutters and doors remotely, controlling multimedia devices remotely: TV, music system, etc., control the home alarm remotely, answer the intercom without moving, open the gate (ConnectorSupplier.com, 2019).
All such commands can be carried out in 4 different ways without moving: voice control, mobile and tablet, adapted remote control and adapted switches. Connected switches and plugs simplify daily lives for people with limited mobility. Because they are wireless, they may easily be relocated in another room or at a different height to accommodate the occupants' height. In fact, changing the location of the switch no longer necessitates cutting slots in the walls and removing wires.
Many others smart devices can be used at home by peoples with reduced mobility. In fact, some persons require specific attention, including close surveillance. This is why the remote monitoring bracelet remains one of the most important accessories today given constant and immediate contact with its user. This remote monitoring is also available as a medallion. With a simple pressure user can notify relatives in case of need. It is very useful also in case of emergency for Elderly (Portet et al., 2013).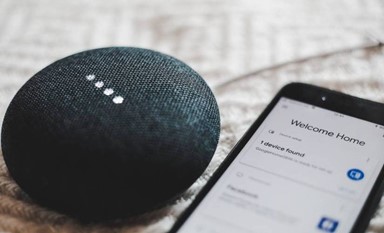 Figure 1. Voice Control using Smart Home and virtual assistant AI technology
These devices and other players in the Internet of Things (IoT) — or, in some cases, the Internet of Medical Things (IoMT) — rely on connectors, sensors, power supplies, signal I/O, Wi-Fi, and Bluetooth connectivity to transmit and receive information at each point. While the functions are accomplished through seemingly invisible means, a very real array of sensors and actuators support every move. The industry's innovations include an M.2 card edge connector, which accepts dual-side modules, allowing for functionality in device-size products. Wireless compatibility is also now possible through wireless module cards, which can deliver BT, WLAN, up to 4G, and GPS solutions to devices.
2. Smart lock
A smart lock is a safer alternative to a keypad, especially to give a housekeeper or nurse access to the home. The Smart Lock is a door lock that can be opened with either a conventional key or a smart phone, allowing the owner to give others a temporary, guest, or admin access. Users can restrict the number of times and days someone has access to their home, while monitoring who has entered in a log. It's Bluetooth- and Wi-Fi-ready, interfaces with Apple's HomeKit software, and can be controlled whether or not the user is at home. Inside these devices, an array of connectors bring functionality, including battery connectors, control connectors, and REM port connectors.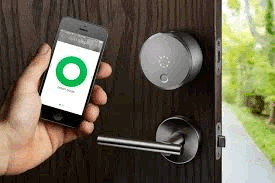 Figure 2. Smart Lock Technology
3. Smart Doorbells
For those who are confined to bed, or are unable to see out of their windows from their wheelchairs, a smart doorbell is handy. The Ring Smart Doorbell, for instance, comes with a motion-sensor camera and shows who is at the door, allowing users to decide whether or not to answer. The power and signal is managed for the slim PCB through ultra-miniature cables and connectors. A micro-USB may be present for charging or connecting to other devices to move data.
4. Smart Thermostats
Smart thermostats, such as the Nest, keep users house at the exact temperature they want and allow them to change the temperature with their smart phone, even when they're away or via a preprogrammed schedule. A series of sensors deliver information about temperature, humidity, and light. Spring-loaded connectors route signal lines to a home's heating and cooling devices. The Nest features a micro-USB port for charging, and a proprietary 20-pin connector that locks the devices onto the base unit.
5. Smart Lighting
Smart lighting like Philips Hue Light Bulbs don't just turn on and off; these lights can also change hues and be dimmed to decrease sensory overload, which is a common challenge for many people living with disabilities. Inside these light bulbs, a tiny system includes a circuit board, radio transceiver, AC/DC converter, capacitor, EPROM, and transformer.
6. Smart Curtains, Shades, and Blinds
Operating curtains and shades can be difficult for people with restricted mobility, but smart window coverings can help. My Smart Blinds, for example, can control blinds with audio as well as smart phone commands. A motor is at the heart of these systems, although the most sophisticated versions also include a sensor array to monitor and respond to light conditions.
7. Conclusion
Home automation makes possible not only centralized management of lighting, heating, household appliances, doors, scenario programming, etc. But also, it makes it possible to easily manage entrances and exits using a connected lock. With such a device, the safety and the security of the user is guaranteed. These home automation devices can be controlled remotely using a simple smartphone. Door automation prevents home occupants from moving when knocking, for example. In addition, during visits, they are automatically notified of the visitor's identity from a visual or sound device.
Home automation can be seen as an effective solution for people with disability because it allows, in a simple and intuitive way, to prevent all security risks related to the home. Furthermore, these devices are more than simple devices for comfort. It represents an essential technology that enhances the autonomy of disabled persons and improve the quality of their lives.
References
ConnectorSupplier.com. (2019, November 20). Smart-Home Technology for the Disability Community. Connector and Cable Assembly Supplier. https://connectorsupplier.com/smart-home-technology-for-the-disability-community/
Portet, F., Vacher, M., Golanski, C., Roux, C., & Meillon, B. (2013). Design and evaluation of a smart home voice interface for the elderly: acceptability and objection aspects. Personal and Ubiquitous Computing, 17(1), 127-144.